Active Folate B12 (60 ct) Chewable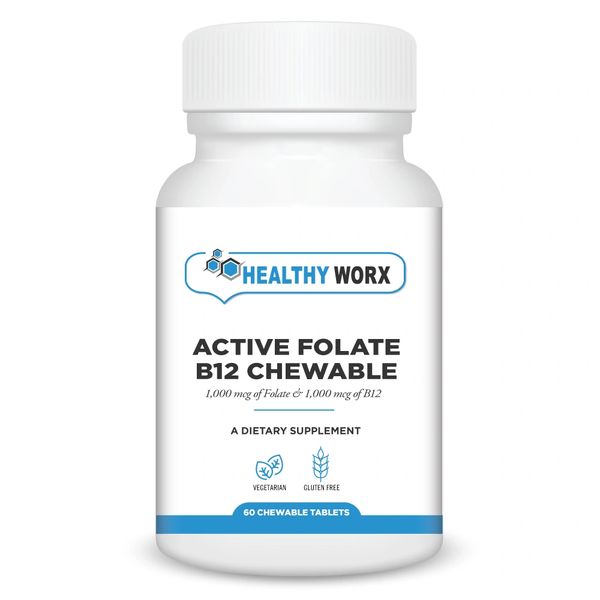 Active Folate B12 (60 ct) Chewable
Active Folate B12 Chewable combines the most active, stable, and highly bioavailable forms of folic acid (Quatrefolic® brand) and vitamin B12 (methylcobalamin). Active Folate B12 Chewable is the most stable, bioavailable and active form of folate andvitamin B12. It is also recommended for methylation, cellular health, and child-bearing years/pregnancy.* Active Folate B12 Chewable is a preferred form of folate for the support of homocysteine management, heart health and nerve function*

Suggested Use: As a dietary supplement, chew 1 tablet daily, or as directed by your healthcare practitioner.
Supplement Facts
Serving Size 1 Chewable Tablets
Servings Per Container 60
Amount per Serving                                                % Daily Value
Folate (as [6S]-5-methyltetrahydrofolic acid from 2,000 mcg of
  Quatrefolic® [6S]-5-methyltetrahydrofolic acid,
  glucosamine salt) 1,000 mcg                   250%
Vitamin B12 (as Methylcobalamin) 1,000 mcg      16667%
Other ingredients: sorbitol, microcrystalline cellulose, stearic acid, vegetable stearate,
natural apricot flavor, natural cherry flavor, silica.
WARNING: 

If pregnant or nursing, consult your healthcare practitioner before taking this product.
Keep out of reach of children. Store in a cool, dry place.
Color of this product may vary due to color variations of the natural ingredients.
To obtain product information or report a serious adverse event, call    1-800-638-0072.
Quatrefolic® is a registered trademark of Gnosis S.p.A. U.S. Patent No. 7,947,662
*This statement has not been evaluated by the Food and Drug Administration. This product is not intended to diagnose, treat, cure or prevent any disease.